IONIC LIQUIED for high-luminace LEC
Highest luminance in the world for light-emitting electrochemical cell (LEC)
(at least 19,000 cd/m2

※

)
※As of September 2014
What is LEC?
・This is a new method of light emission developed by Alan J. Heeger and colleagues in 1995.
・The structure consists of light-emission layer, made of light-emitting material (polymer) and electrolyte, placed between the electrodes, resulting in plane emission device similar to organic EL.
・The structure and manufacturing method are simpler than other light-emitting devices and is noted as a next-generation emission device.
Structure of OLED

Structure of LEC

Comparison of characteristics between LEC device and OLED device
Succeeded in development of electrolyte for high-luminance LEC
As a result of joint research with Waseda University*, we developed an electrolyte for high luminance LEC by using our technology for phosphonium ionic liquid.
*Associate Professor Tomo Sakanoue (leading figure in Japan for researches on LEC)
Nippon Chemical's ionic liquid for high luminance LEC can be supplied in a stable manner and at low cost if synthesized from high-purity phosphine gas.
We have a wide range of products with phosphonium products as the main feature.
High transparency of phosphonium is optimal for use in optics.
Example of operating blue LEC device from trial manufacture

Example of operating serial LEC device from trial manufacture

Structural diagram of serial LED device from trial manufacture
Advantage of IONIC LIQUID for LEC
(1)Satisfactory mixing property with various light-emitting polymer
(2)Low emission starting voltage
(3)High luminance and long lifespan

High performance is demonstrated in various light-emitting polymers, including fluorine and polyparaphenylene vinylene polymers.
We are developing paint for the formation of LEC light-emitting layers to create new and innovative devices.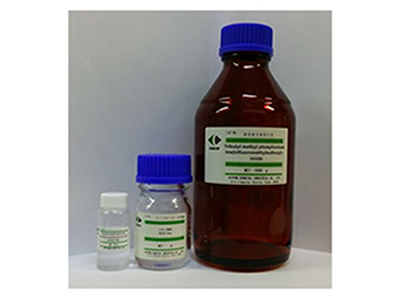 IONIC LIQUID FOR LEC